New Features
Standard Email notification includes Lead and Case fields 
Previously the standard Email notification had the record name and a link. For notifications which relate to Lead, Case and Opportunity commonly used fields have been added to the default email.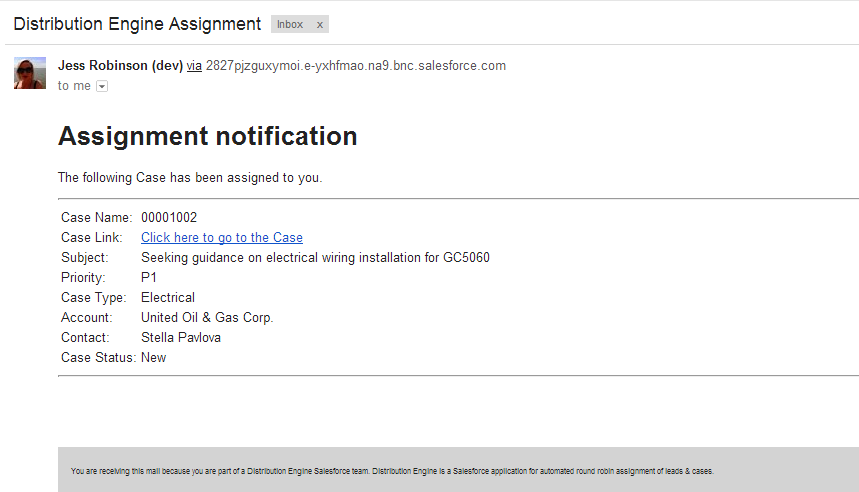 These standard notifications are not customisable. To create custom Email notification formats please see 
Custom email notifications
 topic
Team Summary toggle
The User login mode feature was previously only accessible from the team member's widget. The team summary toggle feature allows a manager or admin to log users in or out from the team summary page.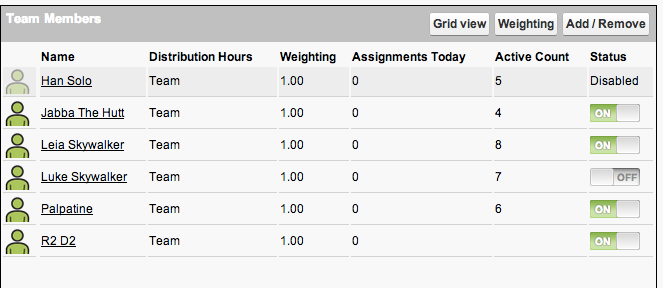 User login audit trail 
The User Login Mode feature enables users to toggle themselves on or off, to prevent distribution when they are not available. The new user login audit trail feature captures these login and logout events so they can be reported on. Data is collected in a new custom object named User Activity History. A new Salesforce report is included in the Distribution Engine reports folder called User Activity History, this shows login and logout events over time for each of your users. It also includes the reason for the event - whether it was initiated by a user, manager or the auto-reassign feature.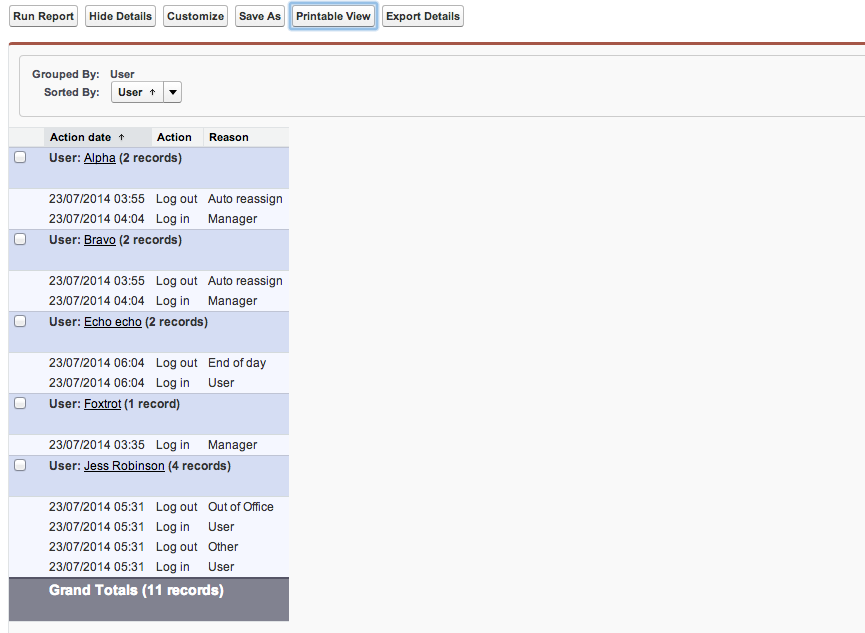 Increased capacity - teams and distributors
Due to Salesforce governor limits there was previously a maximum capacity (calculated by the combination of teams and distributors) that the Engine could handle. This maximum has now been removed. The Distribution Engine will process as many teams and rules within each run as the limits allow. It will then continue running from where the last run ended. 
Out of office for Queues
For customers distributing among queues (usually to split work between teams) it is now possible to enter Out of office entries to prevent distribution to a queue over a period of time. For example if a customer was using queue distribution to split work between regions, it would now be possible to shut down a region for a period of time.

Defects resolved 
Defect 2-1: Pull distributor for inactive teams were visible. Now hidden for inactive teams.
Defect 2-2: Team summary, by switching profiles it was possible to add the same user multiple times.
Defect 2-3: Team summary, team member name was not reflecting user name changes.
Defect 2-4: Issues with Distribution Settings page checkboxes in Internet Explorer. 
Defect 2-5: Distributor Clone button was limited to 20 tag selections. This limit has been removed.