New Features
Tagging - Generate from picklist
Rather than manually creating tags it is now possible to auto generate tags based on a selected picklist. 

From the Add tags page click Generate from picklist

Each value in the picklist will be created as a new tag.
Online help
Each page in the Distribution Engine application now links to a relevant online help topic
Distribution Console - Active team member count
It is now possible to see a count of active team members for each team on the Distribution Console. This shows at a glance whether each team has enough cover. Active means available to receive assignments including team & member distribution hours, holiday, Out of Office and on / off toggle.

Email notifications - disable per distributor
In order to disable standard Email notifications for specific distributors you can now use a checkbox. This is respected by the standard Email notification workflow rule and will prevent Email assignments for any distributors with the checkbox enabled.

Out of Office - Enhancements
Various enhancements to the Distribution OoO (Out of Office) functionality.
Filter by team and search by name for Out Office
Highlight currently active record. In list view any OOOs which are currently active are highlighted in green
Column ordering. Allow ordering by Start, End date and time
Display Created date, Created By. Previously it was not possible to tell when an OOO record was created. This can help explain situations where OoO records are created in the middle of the day and hence some assignments may already have taken place.
Calendar view. Show DE OOO in a Calendar view in addition to the list view.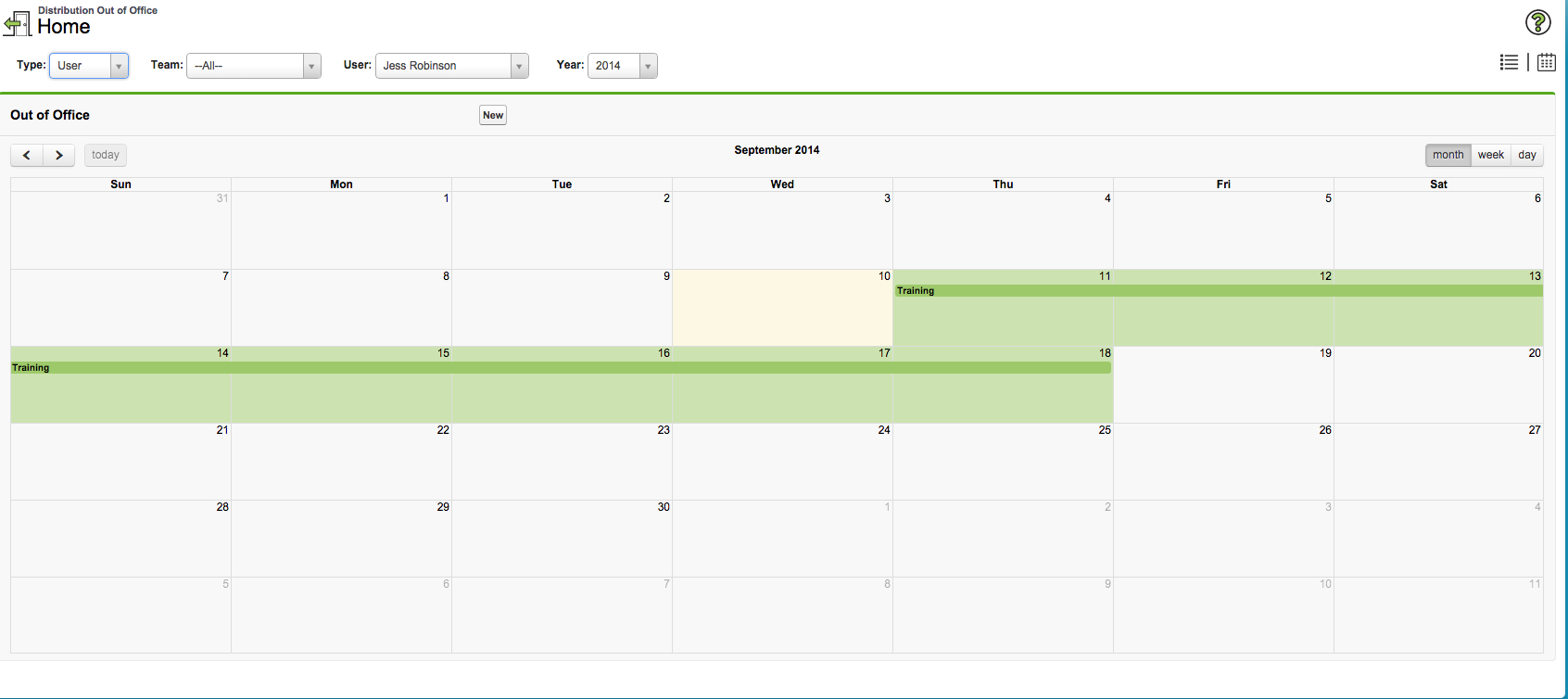 Defects resolved
Move javascript libraries inside Salesforce. We were using some jquery references to Google CDN. These are being blocked by some customers in China causing issues with some pages. All javascript libraries are now served up from within Salesforce.
Slow loading Distribution Console. The Distribution Console has been loading slowly in some orgs. This query has been modified and panels are now loaded in parallel to speed up load time.
Clone last modified date. The last modified date of cloned distributors was previously being copied. This has been fixed to reflect the current date.
Retries for locking issues. The scheduler and and some pages can occasuionally be accessing the same data causing a locking collision. Adding a retry mechanism reduces the chance of this causing a failure.